A free, weekly, live, Amateur Radio Technician Class Licensing course on Zoom will begin on Thursday, Sept 07, and will run through Thursday, October 19 (7 sessions).  The three-hour sessions will start at 6:30 PM Eastern Time.  These are the classes that have been held for years, sponsored by the National Electronics Museum.
Those wishing to sign up should email Roland
Click the link to see the latest news and features from the official ARRL website!
Solar Eclipse QSO Party 2023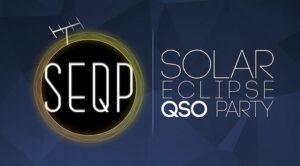 Kent Amateur Radio Society (KARS) will participate in the upcoming Solar Eclipse QSO Party Contest and science experiment on 14 Oct 2023 1200 – 2200 UTC. Our club participation will provide data with our contact log on the Impact of Solar Eclipses on the Structure and Dynamics of Earth's Upper Atmosphere. From the NASA site "The altered ionospheric conditions during an eclipse can change how radio waves propagate through the ionosphere. This can cause signal fading, absorption, and refraction, affecting shortwave and satellite communication systems. Solar eclipses provide a unique opportunity for researchers to study the ionosphere and its response to sudden changes in solar radiation."
If you want to know more about this here are two links:
https://solarsystem.nasa.gov/news/2370/the-impact-of-solar-eclipses-on-the-structure-and-dynamics-of-earths-upper-atmosphere/